On the beach toward Cabourg Draw, just before where the bank became a cliff, several tanks landed. Beyond them, Company L, 16th Regiment, or rather 5 of their 6 boat teams, landed half an hour late at 7:00am facing the cliff. Meanwhile Company I, 16th Regiment in their LCAs were paralleling the cliffs coming this direction, trying to find a landing spot after overshooting to the east, like many other units that morning. They would land around 8:00, an hour an a half late. Most of the 16th Regiment would come ashore farther east than intended and in groups over time, not in a uniform line as intended.

WN 61, defending Colleville Draw, was unusual among German strongpoints in that it was on much lower ground, only about 40 yards from the beach. It contained an 88mm gun facing toward Colleville Draw. At H-Hour, men from Company E, 116th Regiment, 29th Division came ashore in four LCAs just beyond WN 61. Cpt. Maddill, the company commander, was soon wounded and the men were pinned down. Amost directly in front of WN 61, three LCVPs landed with men from Company F, 16th Regiment. To their right, five LCVPs landed with men from Company E, 16th Regiment. All these men were pinned down. Eventually, however, things started to change.

Staff Sergeant Frank Strojny, seeing that his officers were out of action, ordered the men around him to shift left for better cover. He saw the 88 in WN 61 take out three American tanks. He found a bazooka and several rounds. Despite the bazooka being damaged, he fired it into WN 61 anyway. The last of his six rounds detonated ammunition, putting the position out of action. Strojny suffered a slight head wound from sniper fire.

Stroyny lead men forward, blowing the wire and advancing through a minefield uphill, killing several Germans. The action here, and at Cauburg Draw, helped the Americans open up Colleville Draw.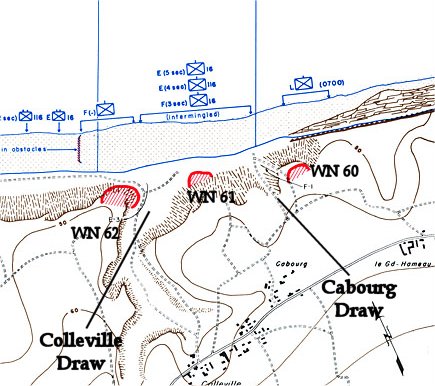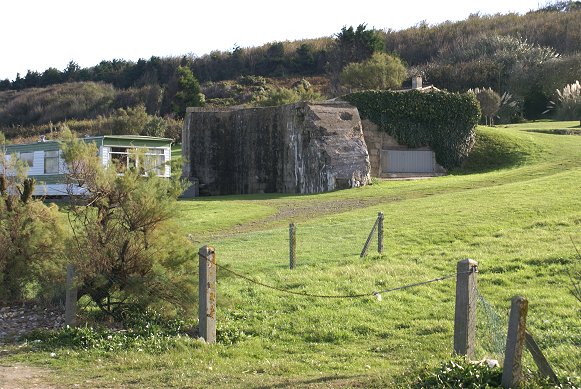 WN 61