Victorian Basins and Drydocks

View of Basins From the West
The above photo is the view from the west bank of the Medway. Visible in the foreground, the Medway can also be seen behind the relatively new buildings on the upper left of the photo. This is the downstream section around the bend in the river.

On the far lower right of the above photo, obscured by the tree limbs, you can see the brick pumphouse for the basins and docks, Boiler Shop No. 1, and the remaining framework of Machinery Shop No. 8.

Pumphouse
---

Dock No. 8
At 469 1/2 feet long, Dock No. 8 is considerably larger than Georgian drydocks, but not large enough to handle many of the larger ships of the later 1800s and beyond. The red brick pumphouse, called the Dock Pumping Station, is visible on the left of the picture, with Upnor Castle across the river just to its right.
---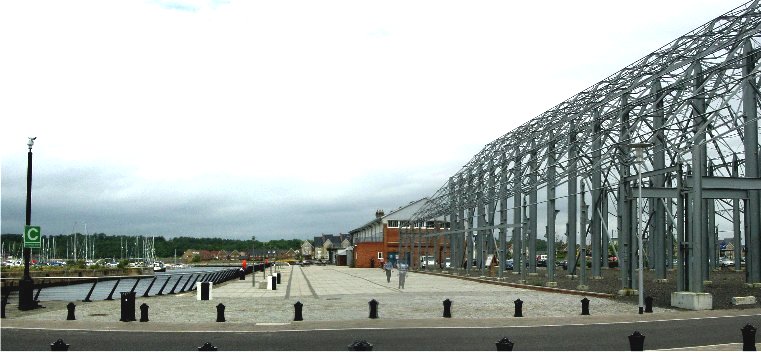 Machinery Shop No. 8
Essentially a view to the right of the previous picture, Dock No. 8 is visible on the left, with Machinery Shop No. 8 on the right. The building was partially disassembled, possibly for a move, but was never re-assembled.
---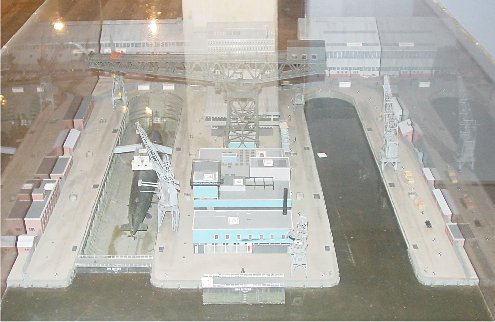 Model of Submarine Under Repair in Victorian-era Drydock
By the early 1900s, with warships becoming larger and larger, the Chatham dockyard, with its relatively shallow river access, was in danger of becoming obsolete. In 1908, however, Chatham launched its first submarine. Submarines and other smaller vessels would keep the yard in business until 1984.
---
Back to Chatham - The Royal Dockyard