Royal Clarence Victualling Yard
in Gosport
| | |
| --- | --- |
| In the 18th century, the fleet was provisioned from scattered facilities in the town of Portsmouth and from the Weevil Yard in Gosport, which had a cooperage and a brewery. From 1828 to 1832, the Weevil Yard was expanded and renamed the Royal Clarence Victualling Yard after the Duke of Clarence. The yard was damaged during World War II and is now being developed. | Cooperage Dating to Weevil Yard |
---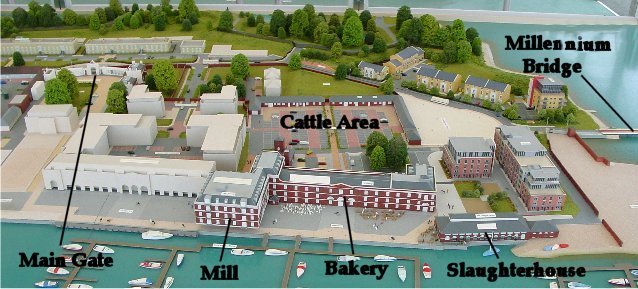 Developer's Model Looking West
The Cooperage is off the picture to the left. Modern Millennium Bridge crosses over to Priddy's Hard, which was a Board of Ordnance facility.
---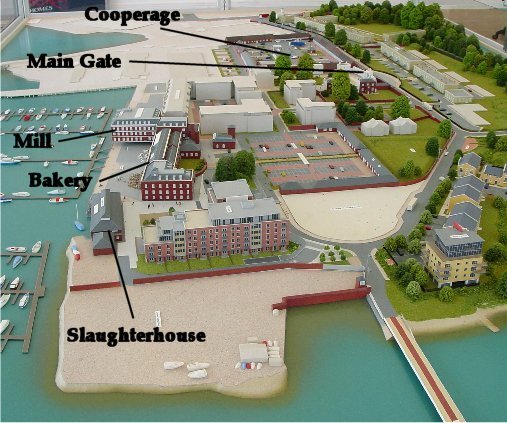 Looking South
---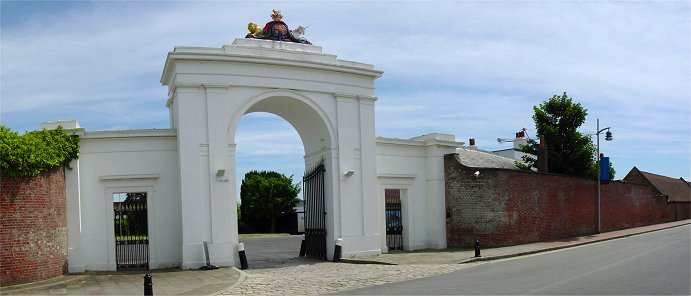 Main Entrance to Royal Clarence Victualling Yard From Outside
---


Main Entrance to Royal Clarence Victualling Yard From Inside
The main entrance features a guardhouse and two houses.
---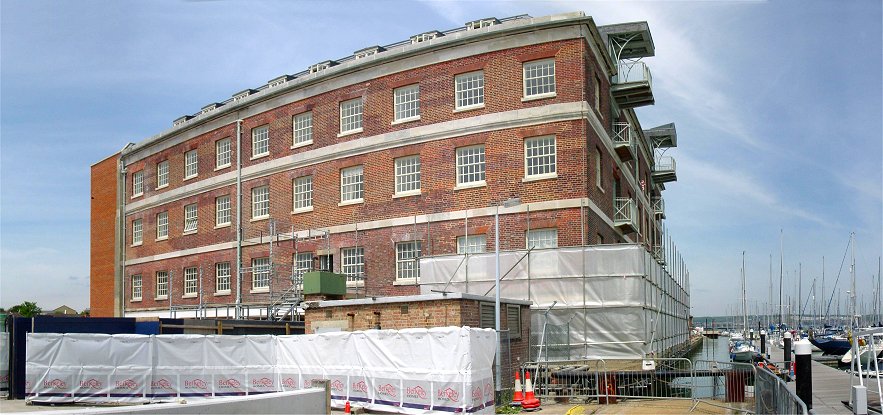 Mill/Bakery
Grain arrived here by boat, was milled by steam power, mixed by steam power, and baked in a two story extension not visible here. On this near side of the building, visible here, was another wing of the complex, but it was destroyed by Nazi bombing.
---

Cattle Area
This is the area behind the Mill/Bakery, and it seems to have been used for cattle pens and a cattle yard.
---

Slaughterhouse
On the right far right is the cattle area, where cows were brought in from distant lands. When it was determined that their days of continuous eating and pooping were over, they were taken to the Slaughterhouse on the far left of the panorama, where they were prepared for an afterlife at sea - in the service of their country. The prominent building on the left-center is the back of the Mill/Bakery. It and the slaughterhouse face the waterfront to simplify the loading of ships.
---

Slaughterhouse
This is a closer-in view of the Slaughterhouse, and you can see the Mill jutting out to its right. On the extreme right is the end of the Bakery.
---