Union Attack and Breakthrough
June 1, 1864
Union troops were slow to assemble for an attack on Lee's southern flank. Smith's XVIII Corps from Butler's Army of the James had moved by boat to join the Army of the Potomac, but botched orders sent them in the wrong direction. Only in the late afternoon of June 1st were both the VI and XVIII Corps deployed to attack near the site of the Beulah Church fight earlier that day.
---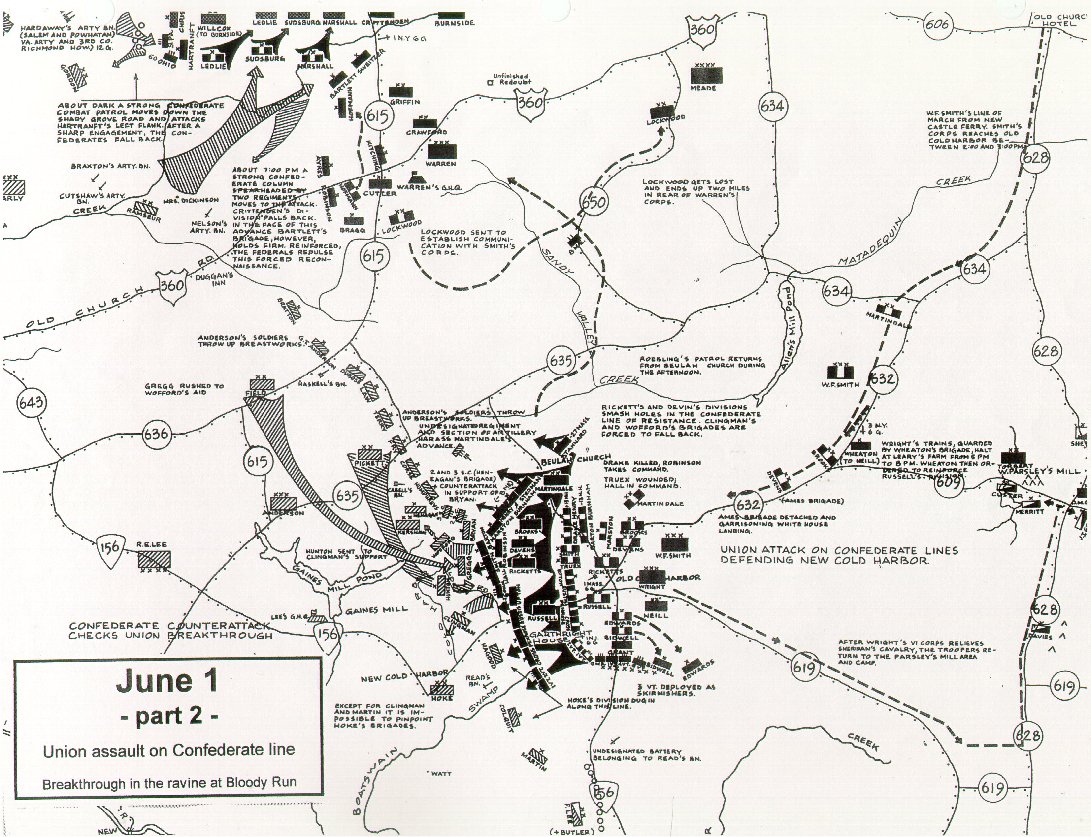 ---

Zoomed View From Near the Garthright House Looking West
Union troops deployed near the Cold Harbor intersection, with Penrose's brigade in the orchard to the south and Eustis's brigade north of the road followed by Upton. Union troops advanced west along the Cold Harbor Road visible on the right half of the picture. Union skirmishers drove their Confederate counterparts from the Garthright House just off the picture on the left.
The houses visible near the center and the one house to left of center mark modern day Boatswain's Road which begins on high ground at Cold Harbor Road and goes along a small hollow heading down to Boatswain's Creek, then the southern flank of the infantry of both armies. We will see the area beyond this road next.
Eustis's and Upton's brigades formed in some low ground, probably close to the Cold Harbor intersection. (Rhea says it was near some 1862 trenches.) The Confederate line was roughly along the tree-line visible to the left of the cemetery and behind the white building to its left. It extended south of the road, but I have not been able to determine precisely where.
---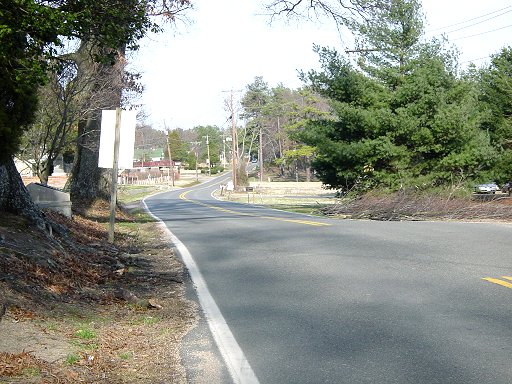 Confederate View Down Cold Harbor Road
This is the view from where the Confederate line presumably intersected the Cold Harbor Road. Artillery may have been placed here during the battle. As a benchmarks, the prominent pine tree on the right is also visible in the previous photo, and the tree-line just to the left of the pine marks the entrance to the Garthright House. The brick wall above the monument on the left and between two tree trunks is the national cemetery. The break in the road's double yellow line shows the turnoff to Boatswains Road, which heads down a hollow to the creek.
---

From Near the Confederate Line Along Cold Harbor Road Looking South to West
South of Cold Harbor Road the ridge continues in a somewhat southwesterly direction. It is shown on the Micheler map with earthworks on both its east and west sides, so trying to match up the map and Gordon Rhea's account of the battle with the terrain is difficult.
By the time of the famous June 3rd assault the Confederates had fallen back to a new entrenched line visible at the tree-line behind a grassy field in the distance on the right of the picture.
---