Gettysburg - The First Day
July 1, 1863

First Shot Area Looking Toward the Confederates and the Monument
Here, at a site somewhat difficult to find and only moderately interesting, the alleged first shot of the battle was fired by a Union cavalryman. The monument can be reached by climbing the bank on the right of the panorama. Early on the morning of July 1st, Union cavalry skirmished with the advancing Confederates of Heth's Division and bought time for Buford to deploy his dismounted cavalry on the western arm of McPherson Ridge.
---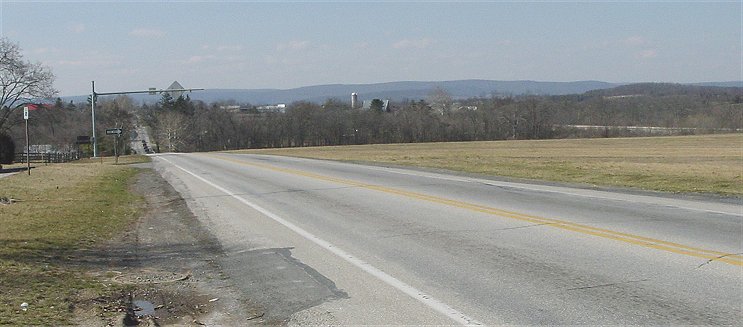 From Western Arm of McPherson Ridge to Herr Ridge Along the Chambersburg Pike
When Heth reached Herr Ridge, he deployed his artillery on the ridgetop and two of his four brigades for the attack, generally with Archer to the right of the road (left of picture) and Davis to the left (right of picture). Some Confederates advanced along an Unfinished Railroad, visible on the right of the picture. As the pressure on the cavalrymen was increasing, Reynold's I Corps began arriving just in time for a major Confederate attack.
---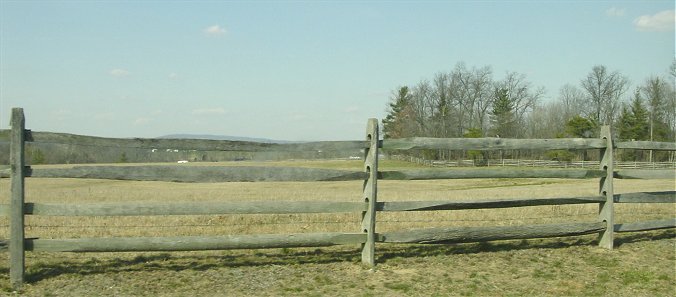 Union Line on Western Arm of McPherson Ridge Looking West
This picture was taken to the left of the previous photo, and is the Union view down a hollow of McPherson ridge looking in the direction of the advancing Confederates. The Chambersburg Pike is off the picture to the right, and McPherson Woods is off the picture to the left. The action here would increase later in the battle.
---

Looking East From Western Arm of McPherson Ridge
Orientation: The previous picture was taken from the fence on the far right of this picture facing further right toward the Confederate advance. The ridge in the middleground is the main arm of McPherson Ridge, beyond which is Seminary Ridge. Here, Buford had observed the battle in the seminary cupola.
Archer's brigade entered McPherson's Woods on the right side of the picture and battled Meredith's "Iron Brigade" which had arrived just in time. The Iron Brigade flanked and smashed the attacking rebels, but Reynolds was killed. Davis's brigade flanked and pushed back the Federals on the left side of the road. In response, two Federal regiments from the fence on the far right moved across the field and counterattacked to the road. Two of Davis's regiments fell back into the Railroad Cut. The 6th Wisconsin in reserve behind McPherson Woods had moved to the eastern end of the cut, and over 230 Confederates surrendered there.
Around noon, Ewell's Second Corps arrived north of town and deployed to attack. I Corps units had extended the Union line north along Oak Ridge, essentially an extension of Seminary Ridge, and the Union XI Corps had also arrived and deployed north of Gettysburg to face the new threat. Oak Ridge is visible starting at the far left of the picture and includes the wooded area. As we will see, Iverson's brigade was nearly destoyed at the northern end of the Union line, shown as the cleared area.
---