Guilford CH The Second Line
Virginia Militia
After dealing with the first line, Cornwallis' men advanced on the second line, held by the Virginia militia. The militia was organized into two brigades of about 600 men each, under Generals Stevens on the right and Lawson on the left. These men were tougher to deal with since many are thought to have been Continental veterans, and Stevens placed select men behind his brigade to shoot any man who ran. The terrain was wooded and the British units became disorganized, but Stevens was wounded and the right of the militia fell back, with part of the line bent back toward the road. Webster's light infantry were better suited to the terrain, and this may have helped their effort here. The left of the militia then followed the right in retreat, and Washington's flankers fell back to the third and final line held by the Continentals.
---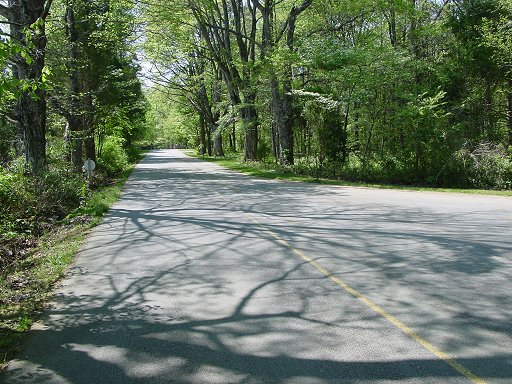 Second Line Looking Forward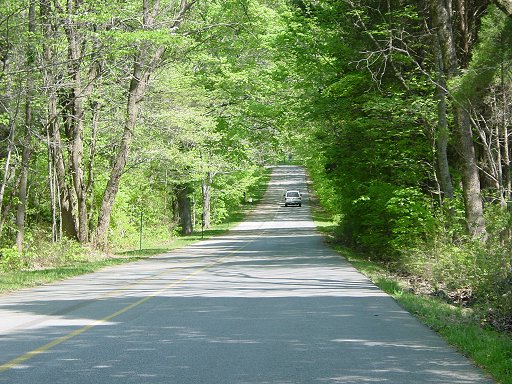 Second Line Looking to the Rear
These two photos were taken at Tour Stop 3 near the second line. You can clearly see the second line was on a small ridge.
---

Second Line Near the Greene Monument
On the left is the interpreted position of the New Garden Road. You can see that the road crests. This marks the ridge or "heights" of the second line.
---

Flankers' Final Position
The flankers on the American first line had continued to fight. Washington, Lynch, and Kirkwood on the right fell back to the second line composed of Virginia militia and later to the third line. On the left, Lee, Campbell, and a few North Carolina militia lost contact with the rest of the army and fell back further to the left off the main battlefield. Leslie with the Bose Regiment and 1st Bn. of Guards were tied down fighting these men for much of the battle, and were unable to assist in the more decisive fighting. The Americans fell back through what is now Forest Lawn Cemetery, and at one point nearly surrounded and routed the Guards, a very impressive achievement. Some cavalry of Tarleton's legion were sent to assist their comrades and attacked the American riflemen. This photo is taken from the rear of the hill now believed to be the flankers' final position before withdrawing. It is now part of a Greensboro park.
Lee and his cavalry had separated from the rest of the flankers and moved to join the American third line. He arrived in sight of the third line just as the fight was coming to a close.
---