The Grand Storehouse Model
Built in 1688, and destroyed by fire in 1841 with the loss of a number of historic artifacts, the Grand Storehouse was designed to store artillery and small arms, but it soon became a tourist attraction. This model of the building, the modern displays showing its inside appearance, and the photo captions are in the Royal Armouries collection in the White Tower.
---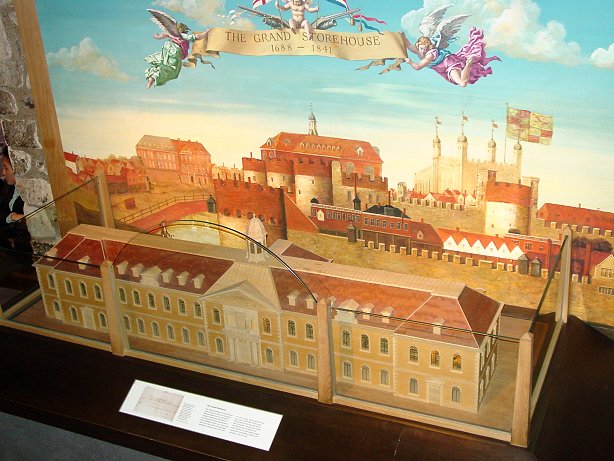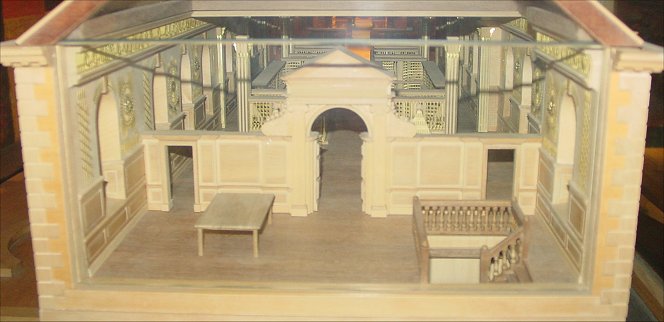 "The Grand Storehouse was built between 1688 and 1692 on the site of the present Waterloo Barracks by the well known builders Thomas and John Ffitch. It was constructed of brick with Portland stone dressings. Nearly 110m (360ft) long and 18.3m (60ft) wide it was the largest building ever erected at the Tower and cost over 15,000 pounds. The ground floor was given over to the Artillery Room where the great guns of the army and various objects of historic curiosity were housed. The first floor was occupied by the Small Armoury, the extraordinary display represented in this gallery, while the roof contained a store for tents."
Note: The British ground floor is equivalent to an American first floor.
---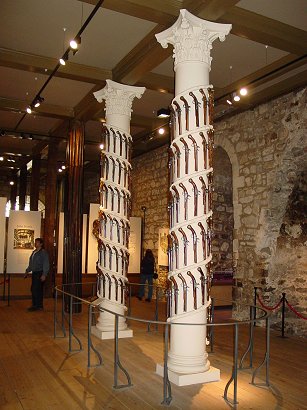 "Decorative Column"
"Down the centre of the Small Armoury was a number of columns, some square others round, made of long pike. The two shown here, on your far left and far right, reflect the forms of these pillars though the originals had wooden capitals and bases."
Note: In this photo, the pike columns are on the left.
"Four more elaborate wooden columns, 6.7m (22ft) long with carved bases and capitals in the Corinthian order, were in the centre of the room next to the entrance to the Grand Staircase. They were decorated with spiraling mouldings, carved with leaves, flowers and berries, into which wooden pins were fixed to hold 900 flintlock pistols. The two columns here feature flintlock sea service pistols first issued in the late 18th century."
Note: In this photo, the pistol columns are on the right.
---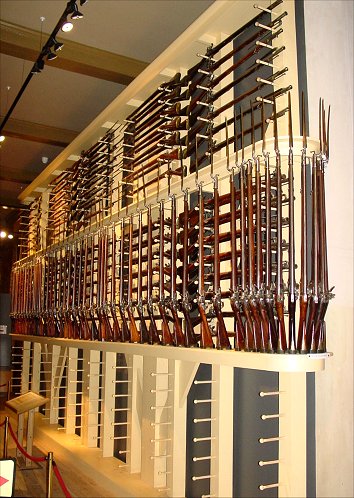 "Gun Rack"
"This enormous rack is a copy of one of several that were installed in the Small Armoury toward the end of the 18th century. It was designed to hold India Pattern muskets, some of which you see here. The India Pattern became the standard issue for the British land forces after 1797. Each rack could hold no less than 1174 muskets together with their bayonets."
---
Return to Tower of London Index