Emmitsburg Road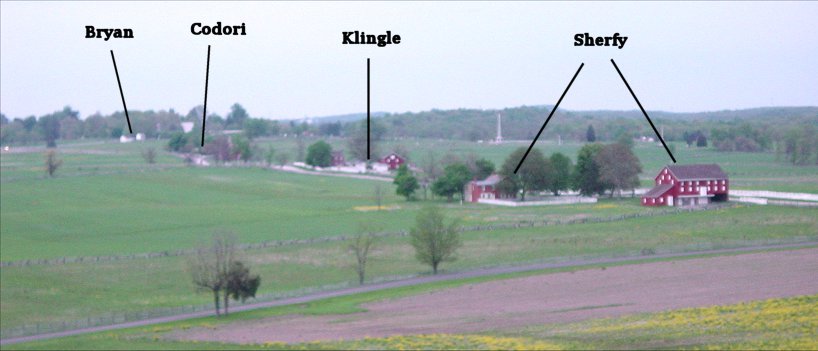 From Tower on Seminary Ridge
This is the view looking northeast from the tower over Kershaw and Semmes' jump-off line. Union troops along the Emmitsburg Road, marked by the many farms, faced toward the left of the picture. As Barksdale advanced against the flank of the Emmitsburg Road position from the right of the picture, Humphreys refused his division's flank near the Klingle farm, where you can barely see, there is a slight rise in the ground. With Longstreet's men now committed, AP Hill's Third Corps joined the attack. To compensate for the progress made, Wilcox's brigade on Seminary Ridge shifted left to straddle the Spangler farm, then attacked. Perry's brigade to their left advanced after a short interval and attacked Humphreys' right flank, which extended short of the Codori farm. Overlapped on both flanks, the Union line was forced to retreat.
---

View from Little Round Top
The Union line along the Emmitsburg Road streamed back to Cemetery Ridge on the right portion of the picture. Having fallen back from near the Peach Orchard, Bigelow's battery made a stand at the Trostle farm, buying time for McGilvery to place several batteries behind Plum Run. Further north, Willard's brigade, various rallied units, and the 1st Minnisota counterattacked and pushed back advancing Confederates in the Plum Run thicket. In the area just south of the Copse of Trees, Wright's Georgia brigade was decisively repulsed.
---

From Culps Hill Tower
If you can tolerate another long range marginal quality shot with a 10 X zoom, here it is. This is the view from the tower atop Culp's Hill. You can see that the Peach Orchard is somewhat elevated above the land to either side. The jump off for Longstreet's en echelon attack had begun well to the left of the tower but eventually extended off the picture to the right. After defeating Humphreys' division along the Emmitsburg Road, Barksdale's and Wilcox's brigades reached the area of the thicket to the right of the Pennsylvania monument, with Perry's and Wright's brigades being repulsed between the Stannard monument and the Copse of Trees.
---